First of all...thank you all of you lovely ladies for your kind words and suggestions. It fits perfectly for what I had planned to post tonight! I love linky parties, who doesnt?!?! This one is going to be super fun to join and you all should join too!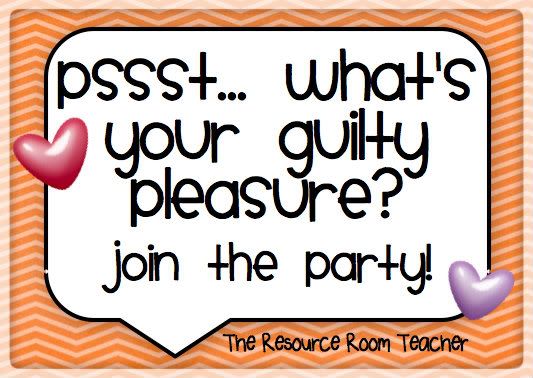 I am linking up with
The Resource Room Teacher
for her guilty pleasure linky party... Ok... We all have them so why not share 'em!
So here it goes...
1. Bachelorette/Bachelor
... It's kind of a serious problem.... I know some of you other ladies are watching Bachelorette... who do you want to win? I am secretly hoping that she turns down both the guys... even though I do really like them both... but then she goes back to Sean because let's face it, he's kind of perfect for her!
Also... it's not ok how freaking beautiful she is... as I sit here in gym shorts and a t-shirt...
2. Pinterest... I know you all are thinking umm who doesn't love them some Pinterest... but it is a bit of a problem! I have it downloaded on my phone therefore I scroll through those lovely pictures and ideas about a bazillion times a day. Waiting for kiddos to show up for tutoring, in line at a check out, waiting for The Hubs to finish getting gas, in bed before I can fall asleep. I'm not sure what it is, but scrolling through all of that gives me a sense of calming haha! I just heard how cheesy that sounded bahaha!!!!!
3.Glee... I am a Gleek. There I said it! So much that I actually had Glee's version of Don't Stop Believing played at my Wedding reception! I know I know, I'm kinda lame but holy crap is it good and who doesn't love them some Journey songs??? So ready for fall for it the new season to start up again!
4. Cupcakes... I absolutely love them! 2 years ago, after graduating, finishing my summer job, and struggling to find a teaching job I started baking to give me something to do during the day. It became a bit of an obsession. Mixing weird flavors, trying new swirl tops, finding fun liners and sprinkles!!! I probably have 200 liners in a small cabinet in the kitchen... it's kind of a storage problem in our tiny little house! But Oh it makes me so happy!
5. Nail Polish... I'm not quite sure when this guilty pleasure started, but I don't think I have left
Target without a new bottle of nail polish in...well... a very long time. Who doesn't love adding some color to their lives right?
6. And last but not least.... Not to sound like a lush because I am definitely not... I totally love me some Malibu Coconut Rum. Especially in the summer! There is something to be said about a hot summer's night and a drink in hand, sitting with family and friends relaxing and enjoying the time together!
There ya have it!! Shh! They are my guilty pleasures in life! What are yours?