It's day 2 of Teacher Week and I am loving this! (Click the picture above to link up too!) It will be a great way for me to keep on bloggin' as school starts tomorrow and I will be too brain dead to come up with my own idea to blog about haha!! How many of you have started yet? Are you pooped? How do you get your "teacher energy" back into swing each year?
Anyways... Onto the technology!
I don't have computers in my room for the kiddos so I don't have too many sites to share with you for that but I think I have some things that you will love!
1.
Into the Book
- I just found this website like last week but from what I have seen on it, I am already in love. It has lesson ideas for the comprehension strategies that we use. It has video clips for the teacher to see how the lesson goes and clips for the kiddos to watch during the lesson. They have tons of downloads and freebies and also activities for the kids to do!! Some of the things I believe are for purchase, but a lot of it is free!
2.
Easy CBM
- I use this website to help me with collecting student data. I am not a big fan of the math portion but the reading measures are great!! I use the comprehension checks for all of my kids at the end of each trimester. You can also track them online and kids can take some of the assessments online too!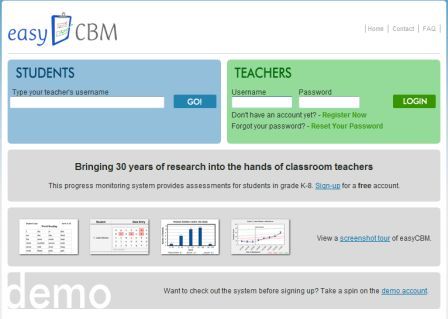 3.
Reading A-Z
- I use the Reading Tutors program through this site and it is great. Tons of printable mini books for all reading skills. You do have to pay for it, but for me, someone who doesn't have a program to work from and also needs to track skill level frequently, this has been perfect. Between this site, and the big reading comprehension strategies, I have a complete reading intervention program that I created myself.
4.
ThatQuiz
- This website is great for quick checks on ALL math skills! It's all online, all free, and all awesome! It tracks everything from the amount of time it takes to solve each problem, to the answer they gave. Love it!
Welp, that's all I have for you today. Come back tomorrow for Where I Teach Wednesday!
Taylor